Assign Sub-Portfolio Link Target Dialog
This dialog is available when selecting "Link To..." from the Portfolio Properties Dialog. Use this dialog to assign one sub-portfolio to be "linked" to another sub-portfolio.
See our Using Sub-Portfolios Video Tutorial.
Link sub-portfolios can be useful to organize your same sub-portfolios into separate hierarchies. Using link sub-portfolios allows you to have an exact mirror image of a different sub-portfolio, located elsewhere in the sub-portfolio hierarchy, without duplicating any data. For example, consider the following: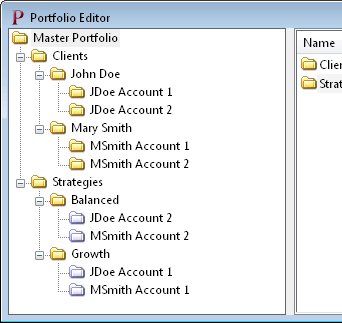 Accounts are shown organized by client, as well as by strategy. Link sub-portfolios are shown with a purple icon in the Portfolio Editor. There is only one copy of the actual account data, and that is stored in the non-link sub-portfolio. Link sub-portfolios can be graphed or reported on, just like regular sub-portfolios. Link sub-portfolio contents are always exactly the same as their target sub-portfolio.
Link targets cannot be assigned that would create a circular reference.
See Also
Using Sub-Portfolios Video Tutorial
---